The Zen Touch Creative WOULD NOT repair..
I have always been a strong supporter of Creative products until NOW! A friend's Creative Zen Touch needed servicing and it was more than a year old, so hence, the warranty is expired. But still, you'd think that any respectable electronics company would have a service centre for it's customers right?
So i brought it down to Creative Headquarters at Jurong, took a number and waited 40 minutes only to be told that they ONLY handle warranty claims! And when i asked what my options were, she looked so lost and replied that they only handle one-for-one exchanges and not servicing. What the
f*@K
!!
In that instant, whatever support i had for Creative evaporated. I mean like, am i right to say if you buy a Creative product, you're 'safe' for a year, but after that, you're on your own man!! Adios Muchacho! And to think i was going to buy a
Creative Zen Micro
!
So now, i decided to buy an...
I'm sorry Mr Sim..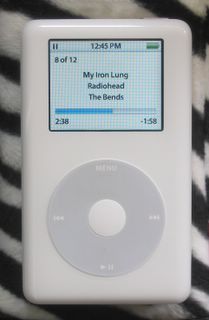 Oh yeah.. this baby rocks! Of course, before buying it, i asked the Apple staff if servicing was provided for a product with an expired warranty and he said yes, you could bring it to the Apple service centre in Orchard (where i bought it from) or their Headquarters in Yio Chu Kang. And after telling him 'Good! THAT was what i wanted to hear..', i told him i wanted to buy an Ipod.